Discipline : Other
Speaker(s) : Various speakers
time zone will be applied.
Original time zone :
2022-06-03 9:00 Melbourne (Australia/Melbourne)
My local time zone : 2022-06-03 9:00

()
posted by Jasmine Barrett
Attachments
File1
:
Call for papers Korean Studies Research Hub The University of Melbourne.pdf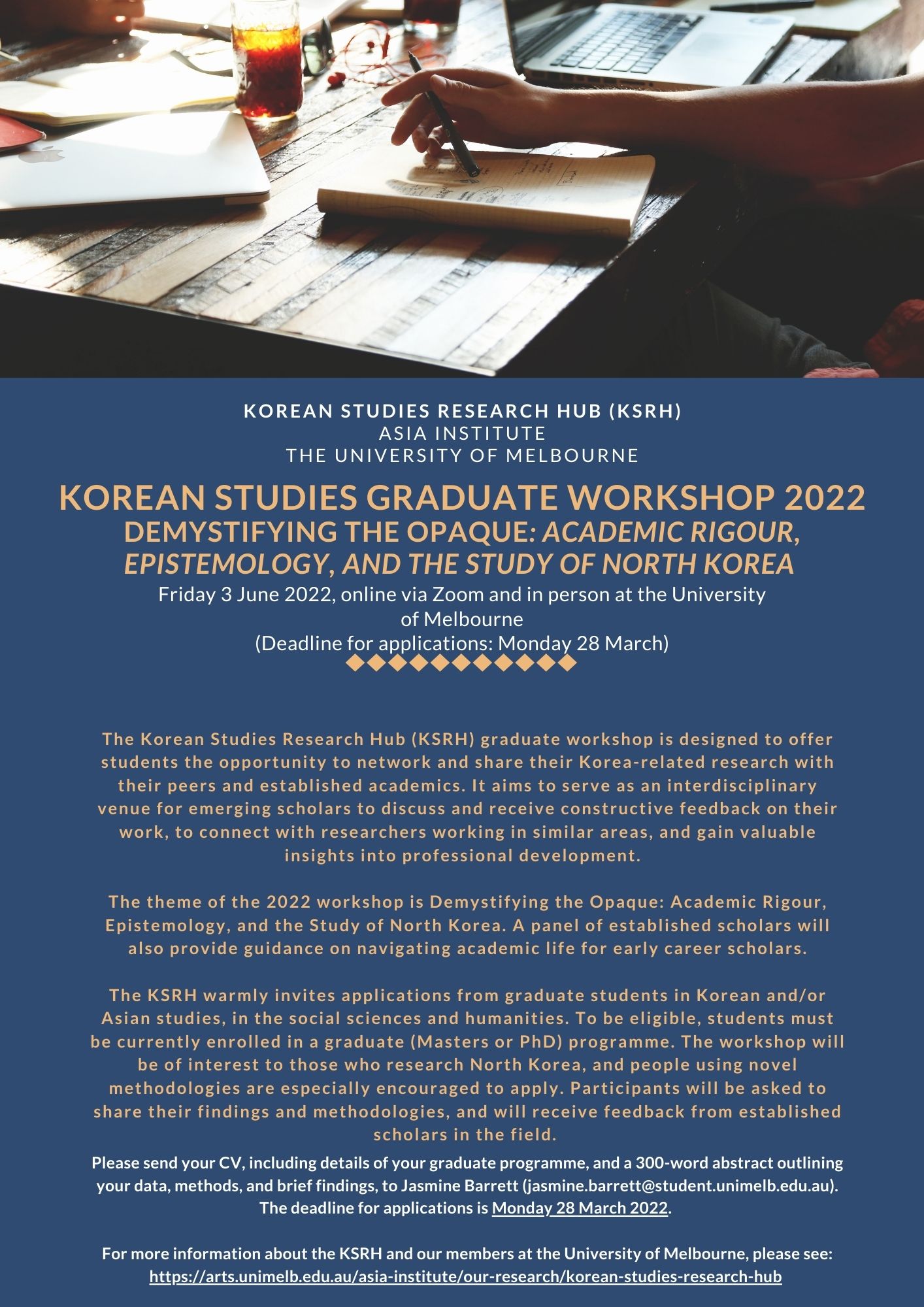 ---
Korean Studies Research Hub (KSRH) at the Asia Institute, University of Melbourne, warmly welcomes applications from currently enrolled Masters and PhD students to the Korean Studies Graduate Workshop 2022.
Demystifying the Opaque: Academic Rigour, Epistemology, and the Study of North Korea
Friday, 3 June 2022, online via Zoom and in person at the University of Melbourne
The exact time of the event will be confirmed once we know the time zones of our workshop participants. We'll strive to be accessible to all time zones.
(Deadline for applications: Monday, 28 March 2022)
The Korean Studies Research Hub (KSRH) graduate workshop is designed to offer students the opportunity to network and share their Korea-related research with their peers and established academics. It aims to serve as an interdisciplinary venue for emerging scholars to discuss and receive constructive feedback on their work, to connect with researchers working in similar areas, and gain valuable insights into professional development.
The theme of the 2022 workshop is Demystifying the Opaque: Academic Rigour, Epistemology, and the Study of North Korea. A panel of established scholars will also provide guidance on navigating academic life for early career scholars.
The KSRH warmly invites applications from graduate students in Korean and/or Asian studies, in the social sciences and humanities. To be eligible, students must be currently enrolled in a graduate (Masters or PhD) programme. The workshop will be of interest to those who research North Korea, and people using novel methodologies are especially encouraged to apply. Participants will be asked to share their findings and methodologies, and will receive feedback from established scholars in the field.
Please send your CV, including details of your graduate programme, and a 300-word abstract outlining your data, methods, and brief findings, to Jasmine Barrett (jasmine.barrett@student.unimelb.edu.au). The deadline for applications is Monday 28 March 2022.
For more information about the KSRH and our members at the University of Melbourne, please see: https://arts.unimelb.edu.au/asia-institute/our-research/korean-studies-research-hub