Discipline : Other
Speaker(s) : Various
time zone will be applied.
Original time zone :
2022-04-27 3:00 Eastern Standard Time(EST) (America/New_York)
My local time zone : 2022-04-27 3:00

()
posted by GW IKS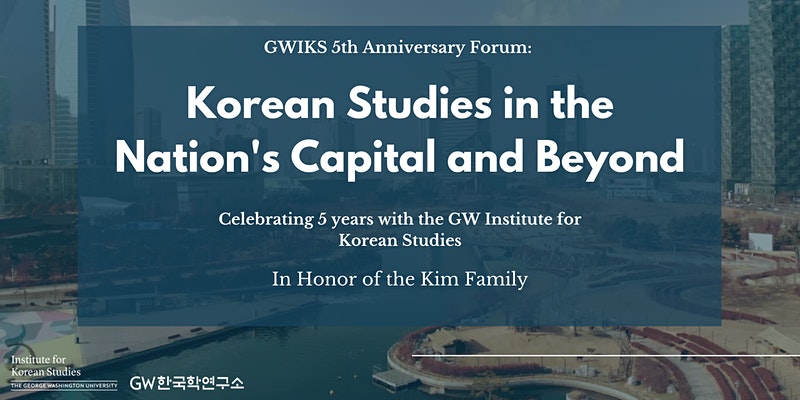 ---
The GW Institute for Korean Studies 5th Anniversary & The Kim Family Celebration Forum: Korean Studies in the Nation's Capital and Beyond


About this event
**THIS IS A HYBRID EVENT. There will be limited in-person registration for attendance at the George Washington University's Elliott School for International Affairs. There will also be registration available to attend virtually via Zoom**
The George Washington University Institute for Korean Studies (GWIKS) is the only institute devoted to the development of Korean Studies and is the central hub for faculty, students, and leading scholars in the metropolitan area of Washington, DC. The establishment of GWIKS in Fall 2016 was made possible by a generous grant from the Academy of Korean Studies (AKS). The institute has since continued to grow over the past five years due to support from AKS, the KDI School of Public Policy and Management, the Korea Foundation, and a generous endowment from our guests of honor, Mr. Tom Chong Hoon Kim and Mrs. Pearl Chungbin Kim. As GWIKS celebrates its 5th anniversary, we are honored to host the Kim family as our special guests as we look back on GWIKS' achievements over the past five years. We have invited four distinguished panelists to share their experience working with GWIKS as we continue our mission of strengthening and growing Korean Studies in the nation's capital and beyond. A panel discussion with our four speakers will be followed by a reception with drinks and light hors d'oeuvres. Please join us in celebrating the GWIKS 5th anniversary with our distinguished guests, alumni, faculty, and students.


Schedule