Discipline : Society
Speaker(s) : Choi Young-Mi (Writer, poet)
Language : English
time zone will be applied.
Original time zone :
2023-11-23 17:00 Edinburgh (Europe/London)
My local time zone : 2023-11-23 17:00

()
posted by Nadja Nielsen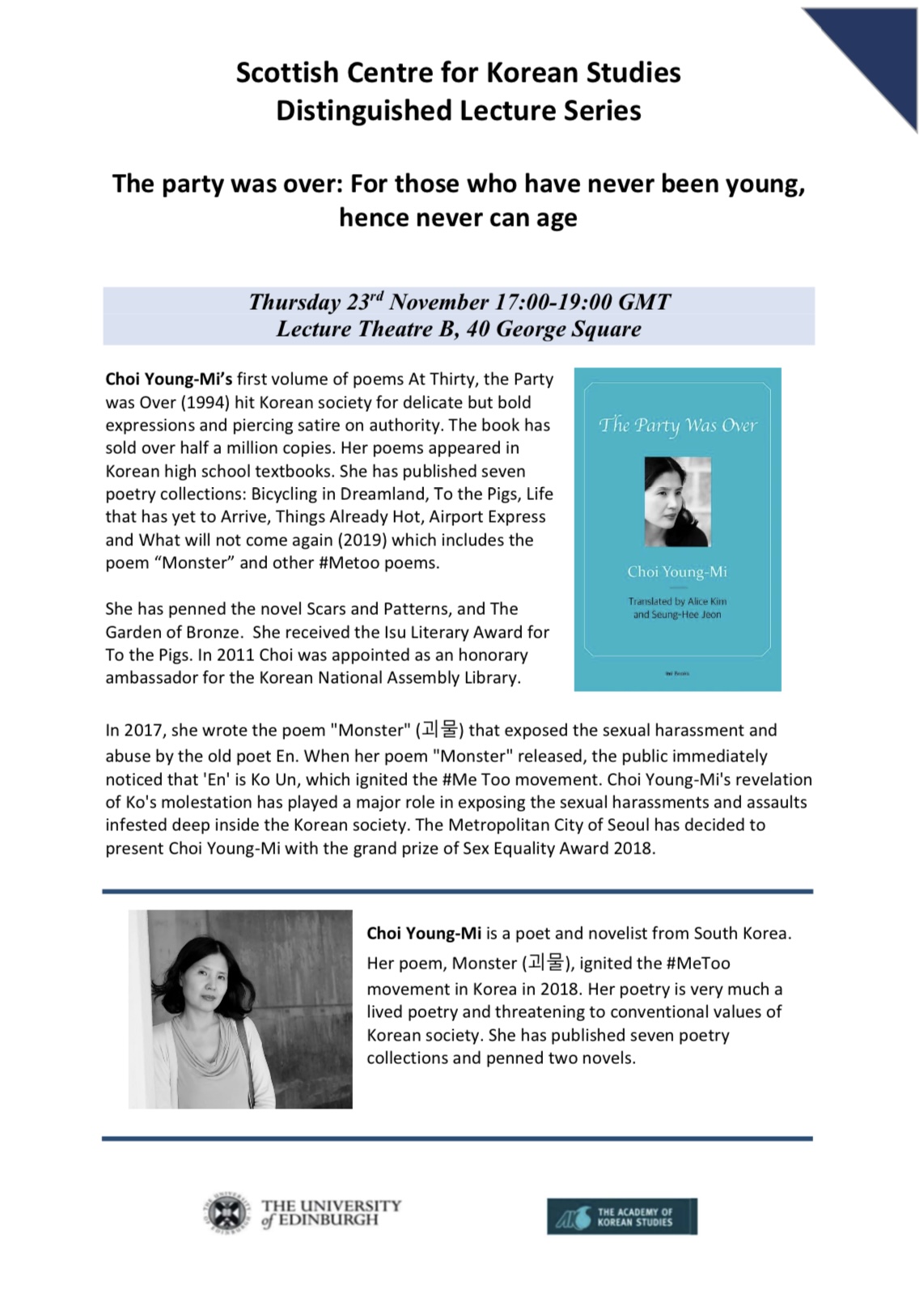 ---
The Scottish Centre for Korean Studies is proud to present the following Distinguished Lecture Series:
The party was over: For those who have never been young, hence never can age
Date: Thursday 23rd November
Time: 17:00 – 19:00 GMT
Venue: Lecture Theatre B, 40 George Square
Abstract
Choi Young-Mi's first volume of poems At Thirty, the Party was Over (1994) hit Korean society for delicate but bold expressions and piercing satire on authority. The book has sold over half a million copies. Her poems appeared in Korean high school textbooks. She has published seven poetry collections: Bicycling in Dreamland, To the Pigs, Life that has yet to Arrive, Things Already Hot, Airport Express and What will not come again (2019) which includes the poem "Monster" and other #Metoo poems. She has penned the novel Scars and Patterns, and The Garden of Bronze. She received the Isu Literary Award for To the Pigs. In 2011 Choi was appointed as an honorary ambassador for the Korean National Assembly Library. In 2017, she wrote the poem "Monster" (괴물) that exposed the sexual harassment and abuse by the old poet En. When her poem "Monster" released, the public immediately noticed that 'En' is Ko Un, which ignited the #MeToo movement. Choi Young-Mi's revelation of Ko's molestation has played a major role in exposing the sexual harassments and assaults infested deep inside the Korean society. The Metropolitan City of Seoul has decided to present Choi Young-Mi with the grand prize of Sex Equality Award 2018.
Bio
Choi Young-Mi is a poet and novelist from South Korea. Her poem, Monster (괴물), ignited the #MeToo movement in Korea in 2018. Her poetry is very much a lived poetry and threatening to conventional values of Korean society. She has published seven poetry collections and penned two novels.
The event is free, and registration is not required.