Discipline : Other
Speaker(s) : Dr. Hyung Min Kim, Senior Lecturer at the Faculty of Architecture, Building and Planning, The University of Melbourne
time zone will be applied.
Original time zone :
2022-03-10 17:00 Melbourne (Australia/Melbourne)
My local time zone : 2022-03-10 17:00

()
posted by Jasmine Barrett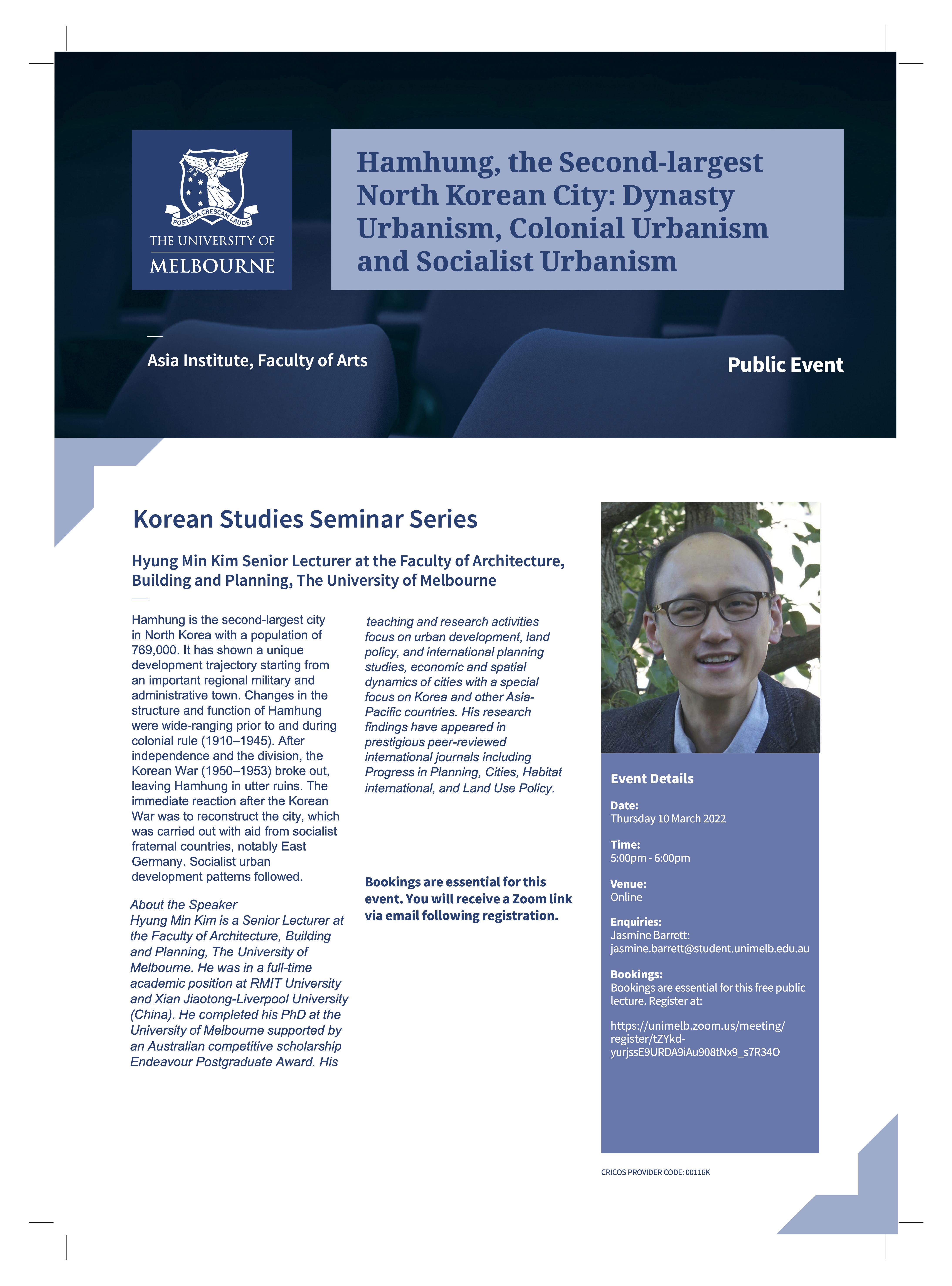 ---
The University of Melbourne, Korean Studies Research Hub warmly welcomes you to the latest instalment in our Seminar Series on 10 March 2022, from 5pm - 6pm AEDT.
"Hamhung, the second-largest North Korean city: Dynasty urbanism, colonial urbanism and socialist urbanism"
Presented by Dr. Hyung Min Kim, Senior Lecturer at the Faculty of Architecture, Building and Planning, The University of Melbourne
Abstract:
Hamhung is the second-largest city in North Korea with a population of 769,000. It has shown a unique development trajectory starting from an important regional military and administrative town. Changes in the structure and function of Hamhung were wide-ranging prior to and during colonial rule (1910–1945). After independence and the division, the Korean War (1950–1953) broke out, leaving Hamhung in utter ruins. The immediate reaction after the Korean War was to reconstruct the city, which was carried out with aid from socialist fraternal countries, notably East Germany. Socialist urban development patterns followed.
Registration link:
https://unimelb.zoom.us/meeting/register/tZYkd-yurjssE9URDA9iAu908tNx9_s7R34O
Enquiries to jasmine.barrett@student.unimelb.edu.au
This event will be recorded and uploaded to Youtube shortly afterwards.