Discipline : Other
Speaker(s) : Dr. Sojin Lim, Senior Lecturer/Associate Professor, University of Central Lancashire
time zone will be applied.
Original time zone :
2022-04-14 17:00 Melbourne (Australia/Melbourne)
My local time zone : 2022-04-14 17:00

()
posted by Jasmine Barrett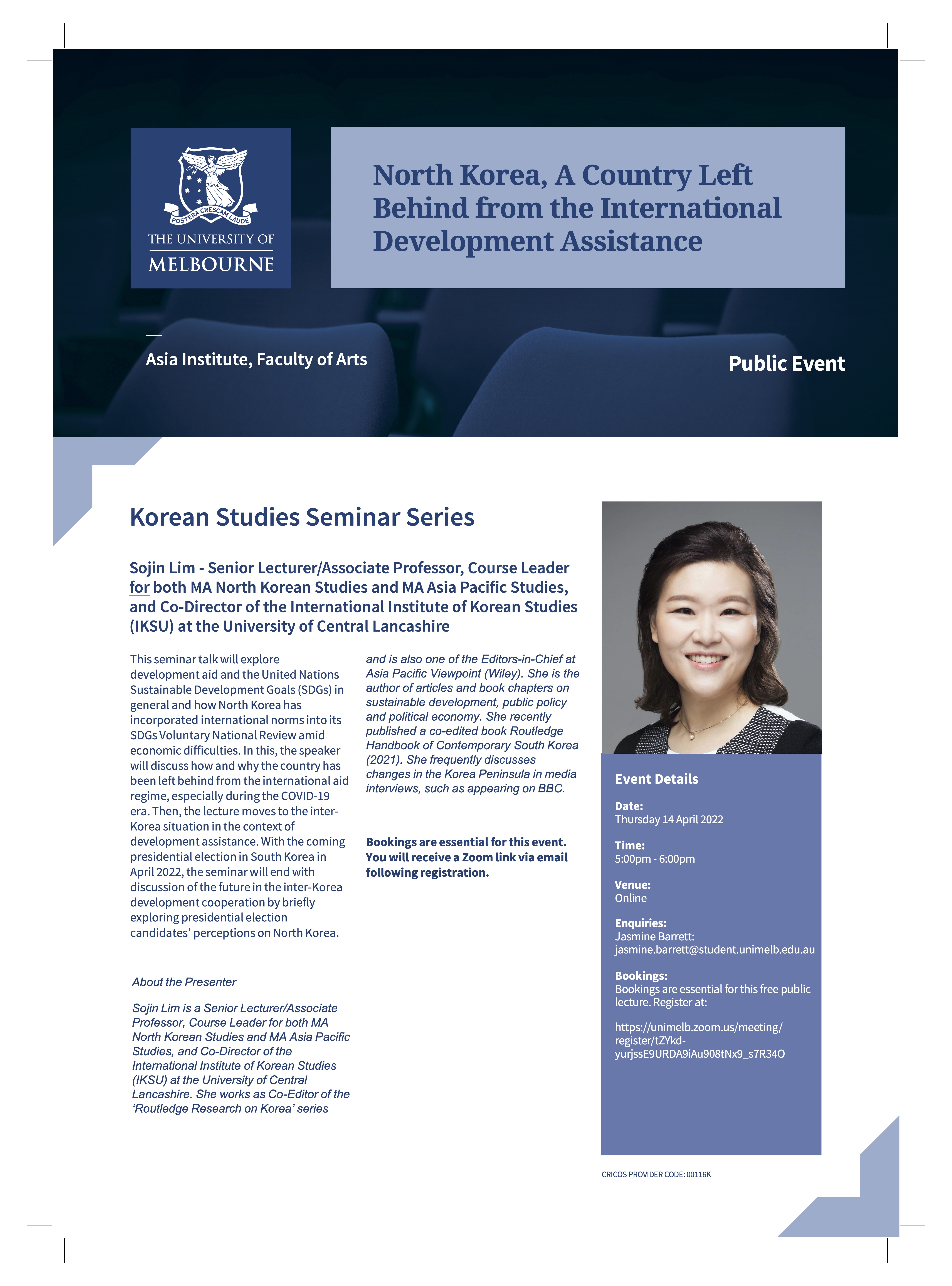 ---
The University of Melbourne, Korean Studies Research Hub warmly welcomes you to the latest instalment in our Seminar Series on 14 April 2022, from 5pm - 6pm AEDT.
"North Korea, A Country Left Behind from International Development Assistance"
Presented by Dr. Sojin Lim, Senior Lecturer/Associate Professor, University of Central Lancashire
Abstract:
This seminar talk will explore development aid and the United Nations Sustainable Development Goals (SDGs) in general and how North Korea has incorporated international norms into its SDGs Voluntary National Review amid economic difficulties. In this, the speaker will discuss how and why the country has been left behind from the international aid regime, especially during the COVID-19 era. Then, the lecture moves to the inter-Korea situation in the context of development assistance. With the coming presidential election in South Korea in April 2022, the seminar will end with discussion of the future in the inter-Korea development cooperation by briefly exploring presidential election candidates' perceptions on North Korea.
Registration link:
https://unimelb.zoom.us/meeting/register/tZYkd-yurjssE9URDA9iAu908tNx9_s7R34O
Enquiries to jasmine.barrett@student.unimelb.edu.au
This event will be recorded and uploaded to Youtube shortly afterwards.