Discipline : Society
Speaker(s) : Dr Sarah Dauncey; Sofia Ribeiro-Lemos
time zone will be applied.
Original time zone :
2022-05-06 14:00 London (Europe/London)
My local time zone : 2022-05-06 14:00

()
posted by Queralt Boadella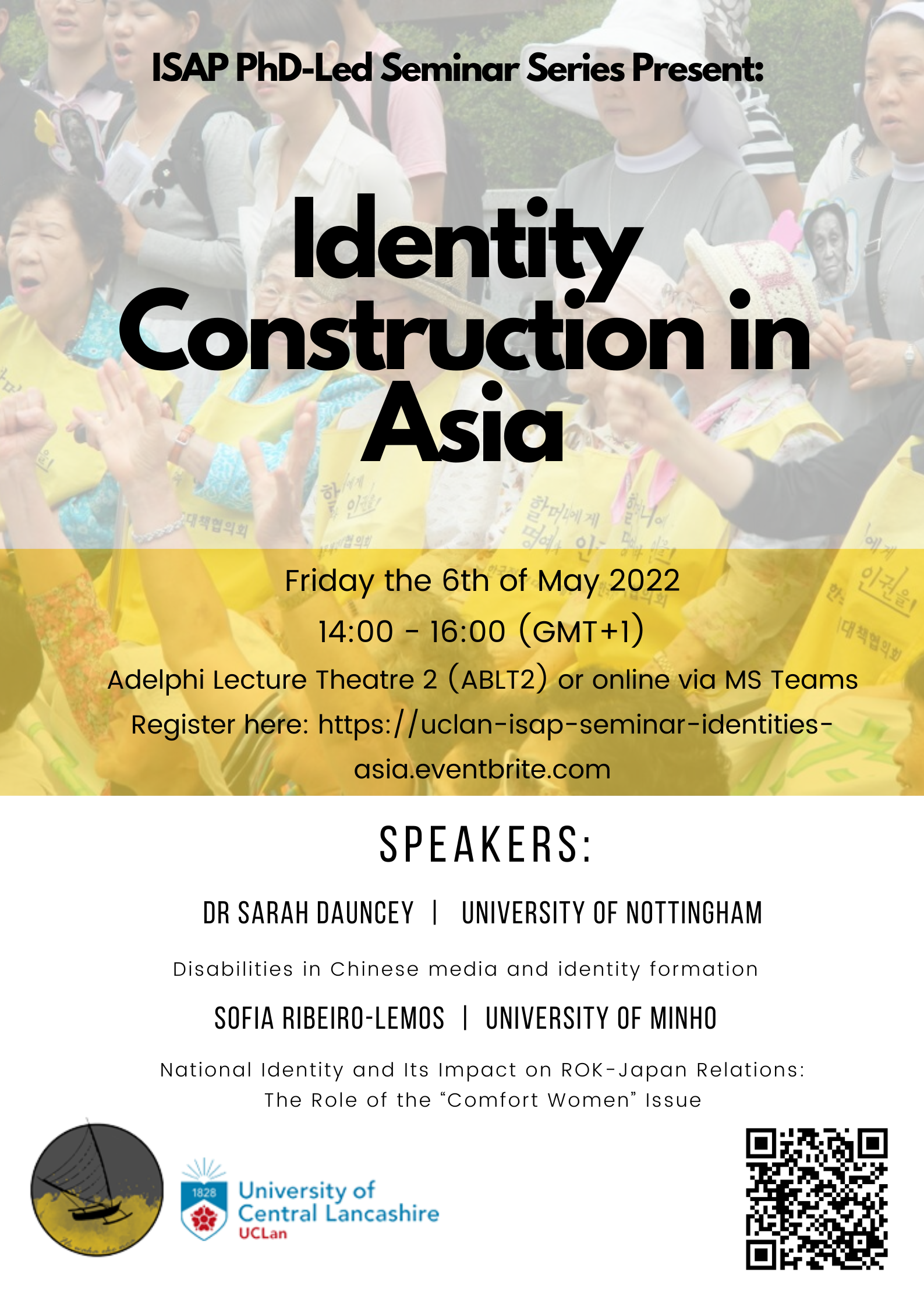 ---
Join us on the 6 of May for the third seminar in the UCLan ISAP Postgraduate-Led Seminar Series at the University of Central Lancashire, UK.
What makes us... us? In this new session, we will explore which elements contribute to identity construction in Asia, such as the comfort women issue and disability portrayal in popular media.
We are delighted to have the following scholars joining us:
Dr Sarah Dauncey, Nottingham University.
Sofia Ribeiro-Lemos, University of Minho.
The seminar will conclude with individual breakout rooms with the speakers and a Q&A session with the whole panel.
Register on Eventbrite to book your place. The seminar will take place at the University of Central Lancashire. Refreshments will be provided.
Date: 6 of May 2022
Time: 14:00 - 16:00 (GMT+1)
Location: ABLT2 / Online via Microsoft TEAMS (the link will be sent the day before the event. A reminder will be sent 30 minutes before as well)This seminar is organised by PhD students of the Institute for the study of the Asia Pacific at UCLan (ISAP) at the University of Central Lancashire.
This seminar series has been established with the hopes of exposing researchers in different stages of their careers. With this seminar series, we endeavour to promote dialogue within the Asia-Pacific Studies community and help develop a network of young researchers across various disciplines.